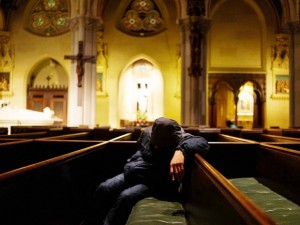 Recovering from addiction is one of the hardest things a person will face in their lifetime, and the last thing a recovering addict should feel is that they are alone. When battling the hardships of addiction, the church can be the best place to seek the support that is needed to resist triggers and avoid relapses. There are those who attend church regularly and those who do not, but in the midst of battling an addiction, the church can help anyone who enters its doors by giving them a strong support system, offering them a way to fill their time and by fighting the addiction with them through the power of prayer.
The professional counselors at Christian treatment centers for depression advise that reaching out to a positive support system is vital while recovering from addiction. This is because triggers and relapses will get the best of you at times, and when they do you will want to discard the lessons of your addiction treatment or self-help in order to satisfy your cravings. A support system is there to lift you up in your moments of weakness and be strong for you in the moments that you cannot be strong for yourself. The congregation of a church often calls themselves a church family because of how close and caring the relationships are. The church serves as an excellent support system that offers compassion and selflessness to those in need.
Another critical element to successfully battling addiction is to keep busy with meaningful activities. An occupied mind is much less likely to wander back to its addiction than an idle mind. A church is much more than a Sunday meeting place. It is a community center everyday of the week, with a variety of activities and ministries for all ages. A person can easily fill their schedule with church events, or simply select their favorite events to attend. Either way, they are spending time doing something communal, positive and productive instead of thinking about their addiction.
And lastly, the power of prayer is not to be underestimated. Lives are changed everyday by prayer, and it is certain that anyone you meet in church will be happy to pray for you, including individuals, groups and even the pastor of the church. If you are already a person of faith, you are aware of how powerful speaking directly to God can be. If you are not a person of faith, you should try prayer yourself or let someone else pray over you. If it is strange to you at first, you can simply think of it as speaking your mind and your hopes out loud. Over time, you will come to understand that this deeply personal ritual is one of the strongest ways God bonds with His children, and you will surely feel His presence in your life.